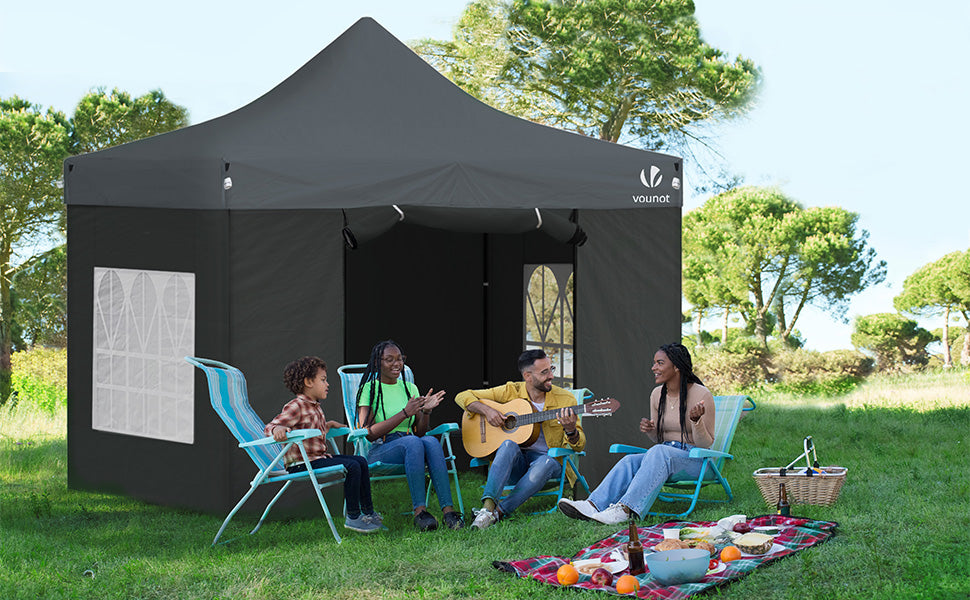 ANTI LEAK AND UV PROTECTION
The fabric of our roof tarp is reinforced PVC with high quality heat-sealed seams that are fully waterproof, resistant to sunlight and promote extended service life.
Parcel included:
1 x garden arbor
4 x walls
1 x transport bag
4 x sand bag
4 x fixing nails
4 x rope

Multiple Uses
Thanks to the 4 removable walls made up of door, window and wall, the garden arbor can be transformed into a simple open stand, a semi-closed shelter, a closed tent and many others. Not only is it suitable for residential use like camping, party, family reunion, wedding, but also commercial use for professional fairs.

Our reinforced roof tarp is fully waterproof and will protect you from the rain.
The 4 sandbags provided will allow you to fix the tarp in a more robust way.
The zippered door that can be quickly rolled up and closed.
The 6 windows create a soft light and ensure a little ventilation inside.

The storage bag with wheels for easy transport.
The frame of our garden gazebo is made of heavy-duty, anti-corrosion steel.
The reinforced structure of our tent offers better stability than conventional gazebos.
Quality foldable structure

Thanks to its pop-up design and foldable structure, it is easy to set up and store.
PACKAGE CONTENTS:

1 x canopy
1 x solid wall panel,
1 x door panel
2 x window panel,
1x tent frame
1x tent bag
4 x sand bags
4 x nails
4 x 3.2m ropes
REMINDER:

2 people are required to pull diagonally at the same time when assembling,poor unfolding can cause the connectors to break
The main function of this garden arbor is to create shade and minimal protection against light rain showers. It is strongly advised not to use when it is at risk of damaging its structure