Shower head sliding rail holder
Shower head sliding rail holder
BEST SELLERS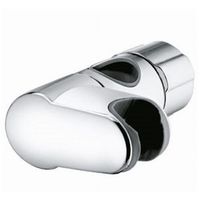 support de douchette
You are here:
Shower head sliding rail holder
Shower head sliding rail holder : make the right choice
As the name suggests, the shower head sliding rail holder is a sliding piece attached to a fixed one, the shower rail. Extremely useful, this sliding holder allows to fix the showerhead and position it at the desired height. Furthermore, other than embellishing and customising your shower, these sliding rail holders are remarkably practical.
Originally conceived as a simple accessory used to hang the handset, designers swiftly saw the scope for the creation of a sliding piece attached to a rail that would be adjustable to the height of the user. To decorate a shower cubicle, these sliding accessories are available in different models, sizes and colours. Their thickness (diameter) varies according to the model, and they are usually white or chrome. These are commonly made in chromed ABS in order to be sturdy and to resist to the wearing caused by the continued action of the water on the material. Find yours on ManoMano!