Easily transform your bathroom with this stylish thermostatic Deco mixer shower from Aqualisa. Its wide array of features is sure to impress and will help you perfectly customise your shower.

The thermostatic control means that this shower will hold its temperature steady at all times and won't suffer temperature spikes if someone else in the house uses a water outlet. The luxurious 225mm drencher head offers a lovely rainfall shower experience. The 120mm shower handset features 3 spray patterns and easy clean nozzles.You can easily customise the height of the shower with the height adjustable shower head slider.

Last but by no means least this shower comes with a fantastic 5 year guarantee so you can have complete peace of mind with your purchase.

Features and benefits:
Modern Two Outlet Bar Shower
Two outlet bar showers come with two separate shower heads that you can easily switch between using a diverter, allowing you to create the most relaxing shower that best suits your mood. The diverter, temperature and flow controls are all situated within the bar valve to make fine-tuning your ideal showering experience straight forward and hassle-free!  

120mm Shower Handset
Not only do you get the huge drencher head but you also get a fantastically versatile 120mm diameter shower handset too. You can quickly and easily switch between the drencher and the handset, allowing you to get those hard to reach areas.  

Luxury Round 225mm Drencher Head
Most showers are supplied with a standard sized shower handset which is designed to simply get the job done. Your shower doesn't have to be like that and won't, with this large 225mm drencher head. It's ideal for getting that downpour, stuck in the rain feeling but with all the luxuries of a hot shower. Perfection!  

3 Satisfying Spray Patterns
Cater your showering experience to your own needs using the shower handset and it's 3 luxurious spray modes - inner, outer and combined. To change the setting all you need to do is simply rotate the fascia on the shower head itself and et voila!  

Maintains Constant Temperature In All Conditions
Standard showers can have hot temperature spikes when others in the house turn on taps or flush the toilet.

Thermostatic control means that this shower will hold its temperature steady at all times. It dynamically adjusts the mix of hot and cold water offsetting the everyday changes in water pressure experienced in most family homes.

Maximum Temperature Override
With the Aqualisa Deco mixer shower you can set the maximum temperature to avoid any vulnerable users getting scolded. However should you prefer a hotter shower there is a cleverly fitted override button that can be used to increase the temperature. It must be pressed down whilst turned to stop it being used accidentally, keeping all users completely safe.

Cool Touch For A Safer Shower
Standard bar shower valves can sometimes get very hot to the touch. Temperatures of 65 degrees C will cause scalding in less a second.

Cool Touch Technology ensures that the metal valve body does not get hot to the touch. The cold supply runs across the valve before being 'mixed' to ensure maximum safety for you and you're your children when showering.

Easily Switch Between Shower Heads
If you've got two shower heads then you need a quick and easy way to switch between the pair of them. With the Aqualisa Deco you get exactly that with the integral diverter, allowing you to change from drencher head to handset and vice versa, anytime you want!  

Stylish Round Bar Mixer Valve
Bar mixer valves are a really neat way of delivering the perfect shower to your bathroom. They mix the hot and cold water internally so you can achieve the most comfortable temperature whilst looking great and providing you with total reliability. The valve itself is made from plastic with a stainless steel casing surrounding it.  

High Pressure & Combi Boiler Suitable
These showers are suitable for high pressure and combination boiler water systems. This means that they're suitable for combination boiler or mains pressure systems where the supply pressure is in excess of 0.5 bar.
Easy Clean Nozzles
Don't worry about limescale or grime in general building up on your shower head as you can simply wipe any deposits away with a cloth and some mild soapy water. Everyone wants to save time while cleaning and this is one of the easiest ways to do it.  

Height Adjustable Shower Head Slider
The adjustable handset holder means you can customise the height of your shower head to suit you, something that's great for families and people of different heights. It's easy to do too with a button that can be used with just one hand.  

Height Adjustable Shower Column
No matter the space you have available the Aqualisa Deco mixer shower can be designed to fit. The shower column, or riser rail, can be adjusted telescopically from 930mm to 1260mm so you can have that huge drencher head fitted at the most convenient position.  

Valve Easy Fixing Kit Included
Fitting mixer showers to the copper pipework can sometimes be tricky, especially when you're trying to connect everything up. That however isn't a problem with the Aqualisa Deco bar mixers thanks to the easy fixing kit included. It allows you to fit the bar valve quickly and easily to the existing pipework, taking out some serious installation stress.  

Flow Rates (l/min):
1-5 Bar
Handset - Max 9.5 l/min @ 3 bar
Fixed head - Max 9.5 l/min @ 3 bar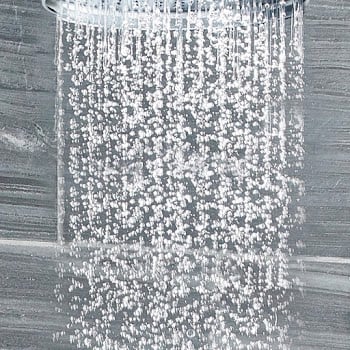 5 Year Guarantee
You want to be confident in the product you're buying which is why Aqualisa are providing you with 5 year parts and labour guarantee on the shower mixer valve and 2 years on the shower head and kit.

Dimensions: