Are you looking for something out of the ordinary, or maybe you have a countertop basin which requires one of our tall basin taps? Either way the Architeckt Boden high rise basin mixer perfectly fits the bill.
With its tall, slender silhouette and polished chrome finish, this mixer tap will ensure that your bathroom is looking its best down to the last detail. Of course, it's not all about the looks though – this tap is a great little performer too. It's suitable for use with all variations of plumbing system and includes ceramic disc cartridges which provide a smooth and fluid operation each an every time.
The body of the tap is precision engineered from solid brass so it's strong and long-lasting. This is then finished with multiple layers of chrome plating to make it the shining centre-piece of any bathroom.
If this wasn't enough the Boden high rise mixer is also covered with a brilliant 10 year manufacturer warranty.
Features and Benefits:
•  Multiple layers of chrome plating applied over a solid brass body. Not only does it look good but it won't rust either.
•  Fluid quarter turn ceramic disc cartridges make finding the right temperature and flow simple.
•  Perfect for use with all plumbing systems.
•  Brilliant 10 Year guarantee   Please Note: Basin waste is not included   
Flow Rates (l/min):
•  0.5 bar: 5.8
•  1 bar: 8
•  3 bar: 13.6  
High Rise Basin Mixer Tap
It's easy to get something ordinary for your bathroom. Something that doesn't stand out or something that just serves a purpose. But you shouldn't have to. Your bathroom deserves the best and that can be achieved with a countertop basin and a high rise mixer tap to suit. They're built in exactly the same way as a normal mixer tap except taller for a truly sophisticated look for your bathroom.
 

Single Lever Tap
If you're struggling to find a minimalist look for your bathroom then we understand your plight. Taps can be complicated and in this day and age all you want is something easy to use that looks great. Luckily, we have just the thing for you with our innovative single lever taps. As the name suggests, these taps are easy to use with just a single lever controlling the flow and temperature of the water.



Reliable Composite Cartridge
Your new tap will never fail on you thanks to the composite cartridge contained inside. This cartridge provides long-lasting reliability and a smoother lever action for easier operation.We'll guarantee that It's never been easier to achieve the temperature and flow you need!  

Solid Brass Body
Is your bathroom feeling a bit tired and worn out? Is the quality of the previous owners taps lacking? A good quality, long-lasting tap needs to be made from a good quality, long-lasting material. And that material is brass. This tap is made from solid brass, precision machined to work flawlessly, and finished to an impeccable standard. It will give you bathroom an expensive, high-quality feel that won't be beaten.  

Flexible Tails Included
You get your new tap delivered. You're excited. You open the box only to find out that you're missing the flexible tails to connect it to your plumbing. Frustrating! You can order a new set online or run to a local shop. Either way it's annoying! Thankfully with this tap you don't need to worry as the flexible tails are included. Resume excitement!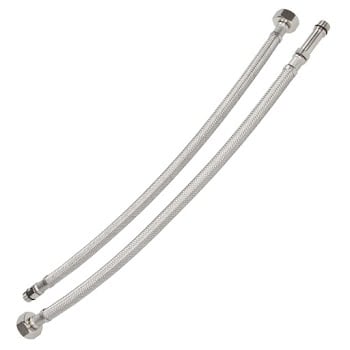 Modern Round Styling
Take the overall appearance of your bathroom to a new level by improving the look of your taps. This tap is the perfect complement for your modern bathroom with striking looks, smooth rounded edges, and a contemporary design to suit any space you have.  

10 Year Guarantee 
High-quality parts and precision engineering put these products together and we want you to be confident of that, so to put your mind at ease we cover you with a 10 year long guarantee.  

Dimensions:
Architeckt Boden High Rise Basin Mixer Tap Video

Architeckt Boden High Rise Basin Mixer Tap

[isdntekvideo]