Store all your random knick knacks in this White Gloss 4 Drawer Unit. No matter how big your bathroom is you never seem to have enough storage for all your 'stuff' with the ever-growing theme of smaller bathrooms there is even more of a struggle to find space, however with this drawer unit space will no longer at loss as not only is it designed to squeeze in into the smallest of spaces, making it ideal for smaller bathrooms, it also provides a lot of storage space for all lotions, potions and just random bits and bobs.
Pair this unit off with our other white gloss furniture to create a stylish and modern style bathroom. The dashing modern lines and stunning chrome handles will instantly upgrade any bathroom cabinet, not matter the size or style. you'll be glad to hear that you won't have to worry about those annoying, hard to read instructions that come with flat pack furniture as this drawer unit comes fully assembled, meaning those tools can stay in the garden shed for at least a couple more months. Once in its home, you can enjoy clutter-free bathroom furniture for years to come, or at least until Christmas rolls around again.
Features and benefits:
• A super stylish white gloss finish
• Best suited for smaller bathrooms
• 4 spacious drawers that provide a lot of storage
• Contemporary chrome plated metal handles
• 100% Pre-Assembled and ready to go
• A fantastic 10 year guarantee for that added piece of mind     Dimensions:
• Height: 766mm
• Width: 250mm
• Depth: 300mm
4 Drawer Unit
If you're lucky enough to have enough floor space in your bathroom then this 4 drawer unit is the perfect way of utilizing it with storage. The unit has 4 drawers that provide plenty of space to store your bathroom products and cosmetics, keeping your bathroom looking neat and tidy. Not only is this unit practical, it's incredibly stylish with its gloss white finish which will match perfectly with your sanitaryware.

White Gloss Finish
White will always be and always has been a truly classic colour fit for bathroom suites. Bathrooms can sometimes be a bit on the small side and white units and fixtures help to reflect light making the room seem that little bit bigger. Our white gloss finish is second to none, with a completely smooth surface for easy cleaning and a crisp, neutral tone that looks fantastic in any setting.

Stylish Chrome Handle
Attached neatly to the front of the white gloss units is the stylish and sleek chrome handle. They're designed with practicality, ergonomics and form in mind, providing you with an easy to use but aesthetically stunning piece of craftsmanship. A high-quality chrome finish is also applied to ensure it complements the rest of your bathroom.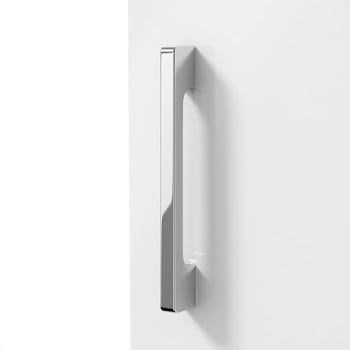 10 Year Guarantee as Standard
High-quality parts and precision engineering put these products together and we want you to be confident of that, so to put your mind at ease we cover you with a 10 year long guarantee.
 100% Pre-Assembled and Ready To Use
No more "Flat Pack Nightmares" this product comes fully assembled and ready for use. 
You won't have to worry if you have the right tools to assemble it, or whether that left-over pack of screws means you have put it together wrong!
Just take it out of the box and you are ready to go

Essence White Gloss 300 x 300 4 Drawer Unit Video

Essence White Gloss 300 x 300/330mm 4 Drawer Unit - Plumbworld - YouTube
Video will open in a new window
[isdntekvideo]
 Dimensions: