Don't be fooled by the simple design of this essentials basin mixer bathroom tap, although it may look basic, the quality and technologies that it uses are top notch. It uses single lever ceramic disc technology, for easy and smooth operation, all that requires to turn them on and off is a simple flick of the handle and the water will either flow beautifully or stop instantly without so much as a drip. The ceramic discs are also extremely hard-wearing, so they will stand the test of time. 
The body and spout are constructed from high-quality solid brass, giving it weight and a feel of quality. This is then beautifully coated in multiple layers of chrome leaving you with a gorgeous final product that won't rust, and will fit perfectly into any decor. 
We also include the compatible flexible tails for easy installation, and a 10-year manufacture guarantee for that extra peace of mind!
Features & Benefits:
•  A stunning chrome finish covers a high-quality solid brass material and zinc handles.
•  Includes single lever ceramic disc technology, meaning there will be no more annoying leaks.
•  Flexible tails to aid installation. •  Includes a slotted basin waste
•  Complete with a generous 10-year guarantee against any factory defects.  
Flow Rates (l/min):
•  0.5 bar: 8.8
•  1 bar: 12.4
•  3 bar: 21.2  
Mixer Tap
A lot of properties still feature separate taps for hot and cold water. They take up a lot of space around the edge of your bath and make it difficult to fill. We've all been there, trying to adjust each tap to get a happy medium! You can easily avoid this hassle with a bath mixer tap. They connect both your hot and cold feed to the same tap body, feeding it out of one spout after it's been mixed within. They're easy to control, allowing you to get your desired water temperature for a perfect soak.  

Single Lever Tap
If you're struggling to find a minimalist look for your bathroom then we understand your plight. Taps can be complicated and in this day and age all you want is something easy to use that looks great. Luckily, we have just the thing for you with our innovative single lever taps. As the name suggests, these taps are easy to use with just a single lever controlling the flow and temperature of the water.  

Reliable Composite Cartridges 
Your new tap will never fail on you thanks to the composite cartridge contained inside. This cartridge provides long-lasting reliability and a smoother lever action for easier operation.We'll guarantee that It's never been easier to acheive the temperature and flow you need!  

Solid Brass Body
Is your bathroom feeling a bit tired and worn out? Is the quality of the previous owners taps lacking? A good quality, long-lasting tap needs to be made from a good quality, long-lasting material. And that material is brass. This tap is made from solid brass, precision machined to work flawlessly, and finished to an impeccable standard. It will give you bathroom an expensive, high-quality feel that won't be beaten.
Polished Chrome Finish
If your old taps are starting to tarnish and no amount of chrome cleaner is bringing them back to life then you really deserve to refresh them. Old, well-used taps can really let down the overall look of your bathroom so bring yours back to life with a simple swap. This particular tap will bring a new element of style to your bathroom with it's gorgeous, polished chrome finish. Pair it with some new accessories for the perfect contemporary look.  

Flexible Tails Included
You get your new tap delivered. You're excited. You open the box only to find out that you're missing the flexible tails to connect it to your plumbing. Frustrating! You can order a new set online or run to a local shop. Either way it's annoying! Thankfully with this tap you don't need to worry as the flexible tails are included. Resume excitement!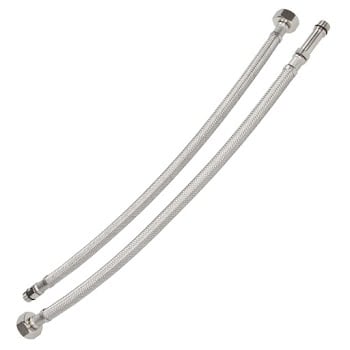 Modern Round Styling
Take the overall appearance of your bathroom to a new level by improving the look of your taps. This tap is the perfect complement for your modern bathroom with striking looks, smooth rounded edges, and a contemporary design to suit any space you have.  

10 Year Guarantee as Standard
High-quality parts and precision engineering put these products together and we want you to be confident of that, so to put your mind at ease we cover you with a 10 year long guarantee.  

Dimensions: