The Dakota Basin Mixer Tap from Architeckt will allow you to create your dream bathroom with ease. The stylish black finish will add a sense of style and sophistication which is highly desired in a modern bathroom.
The waterfall spout found on this tap will allow for the water to cascade elegantly into your basin. The Dakota tap is manufactured to the highest of standards to ensure life long use. Benefitting from a smooth operation on the lever, the tap features ceramic disc cartridges allow for easy control over flow and temperature. Ceramic disc cartridges outlast any rubber washers, meaning no more dripping taps!
For an added sense of modernity, the push button Basin Waste that's included with this Basin tap features a black and stylish finish that will contrast beautifully against a white basin. The waste is made solid brass.
Features and benefits:  
Stunning waterfall basin tap
Contemporary design
Stunning black finish
Solid brass construction
Suitable for use with all types of plumbing systems
Inlet connection size:2 hole M10x1
Outlet connection: M24x1 flow straightener
Push button waste included whcih can either be slotted or unslotted
G 1¼" fitting
Flexible tails included
3 year guarantee on the waste
10 year guarantee on tap
Mixer Tap
A lot of properties still feature separate taps for hot and cold water. They take up a lot of space around your basin and make it difficult to wash your hands, providing you with scolding hot or freezing cold water. You can easily avoid this with a mixer tap. They connect both your hot and cold feed to the same tap body, using just a single tap hole on your basin. They're easy to control with a single lever and allow you to get your desired water temperature each and every time.  

Waterfall Spout
There are a lot of taps on the market, most of which are all very samey looking. You've got your pick of square or round designs but nothing that truly stands out to you. Until now. Waterfall spouts are certainly the stylish choice, looking great wherever they're fitted in your home. The open-top spout allows for an elegant cascade of water rather than a focused stream – making this tap the very definition of contemporary bathroom design.

Single Lever Taps
If you're struggling to find a minimalist look for your bathroom then we understand your plight. Taps can be complicated and in this day and age all you want is something easy to use that looks great. Luckily, we have just the thing for you with our innovative single lever taps. As the name suggests, these taps are easy to use with just a single lever controlling the flow and temperature of the water.

Modern Square Styling
Take the overall appearance of your bathroom to a new level by improving the look of your taps. This tap is the perfect complement for your modern bathroom with striking looks, square edges, and a contemporary design to suit any space you have.  

Reliable Composite Cartridge
Your new tap will never fail on you thanks to the composite cartridge contained inside. This cartridge provides long-lasting reliability and a smoother lever action for easier operation.We'll guarantee that It's never been easier to acheive the temperature and flow you need!

Solid Brass Body
Is your bathroom feeling a bit tired and worn out? Is the quality of the previous owners taps lacking? A good quality, long-lasting tap needs to be made from a good quality, long-lasting material. And that material is brass. This tap is made from solid brass, precision machined to work flawlessly, and finished to an impeccable standard. It will give you bathroom an expensive, high-quality feel that won't be beaten.  
Black Finish
This tap features a sleek and stylish black finish. Black finished fittings are becoming a popular choice for those looking to create a statement in their bathroom. The black contrasts perfectly with white sanitaryware, leaving you with a luxurious monochrome look.

Flexible Tails Included
You get your new tap delivered. You're excited. You open the box only to find out that you're missing the flexible tails to connect it to your plumbing. Frustrating! You can order a new set online or run to a local shop. Either way it's annoying! Thankfully with this tap you don't need to worry as the flexible tails are included. Resume excitement!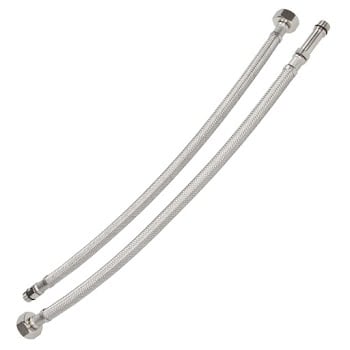 Dimensions: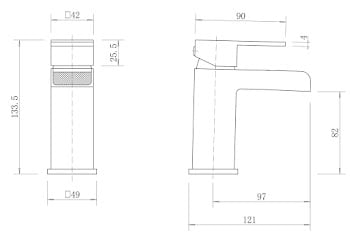 Waste Dimensions: