Stylish, practical and traditional, our Park Lane Winchester Basin and Bath Shower Mixer Set is the perfect option for bathrooms with a shower over the bath. In a striking chrome finish with white details, this is the ideal set to add a little classic style to your bathroom this year.
Sleek and simple, the Park Lane Winchester Basin Mixer Tap allows you to seamlessly blend hot and cold water to get the perfect temperature quickly and efficiently. Blending classical design with modern technology, this basin tap has been designed to be stylish and timeless, as well as efficient and practical.
Made from solid brass and coated with high quality chrome, the mixer has been made to last. It's durable and solid – you can feel the quality as soon as you touch it. The chrome finish ensures a high shine, that won't rust over time of become dull. The zinc handles add a stylish finish, and make the taps a real pleasure to use. 
The mixer uses ceramic disc cartridges, to provide you with a super smooth operation and impressive performance – just turn the taps 90 degrees to achieve full flow.
Basin Mixer Tap:
•  Has a 10-year manufacturer guarantee
•  Comes completely with flexible tails for easy installation
•  Ideal for use with all plumbing systems   Flow Rates (l/min)
0.5 bar - 13.6
1 bar - 18.8 
3 bar - 32.6
  Completing the set is the beautiful Park Lane Winchester Bath Shower Mixer Tap. Perfect for those who love a long soak in the bath as much as a hot shower, the mixer tap allows you to switch between bath and shower with ease.
Add a touch of luxury to your bath and make bathing a real joy – this stylish bath-shower mixer matches our basin tap perfectly, for a cohesive finish. Featuring a strong and smooth body and high quality chrome finish, the body of the mixer is made from solid brass. Designed to stand the test of time, the tap will keep your bathroom looking stylish for years to come.
Using ceramic disc technology, changing the temperature and switching between the bath and shower couldn't be easier. Blending modern technology with traditional design, this is the perfect choice for bathrooms that are more traditional in style. Easy to keep clean, the chrome plating ensures a high shine and no rust.
Shower-Bath Mixer:
•  Complete with a 5-year warranty for peace of mind
•  Suitable for use with all plumbing systems   Flow Rates (l/min)
0.5 bar - 7.8
1 bar - 10.7
3 bar - 18.1
  Add a stylish and practical finish to your bathroom, with the Park Lane Winchester Basin and Bath Shower Mixer bathroom taps.  
Basin and Shower Mixer Tap Set
Looking for an affordable set of taps can be seriously tricky and the last thing you want to do is get a basin mixer and bath shower mixer that don't match. I mean, let's face it, you know it'll ruin the aesthetics of your bathroom. And that's where this fantastic set comes into play. It combines everything you need, basin mixer, bath shower mixer, shower hose and head, into one handy package. Alleviating any stress you might have of upgrading your bathroom.  

Twin Lever Taps 
Finely tuning the perfect water temperature can sometimes be a bit tricky. Adjusting the lever bit by bit is frustrating and unnecessary especially when a twin lever tap can do this for you much more efficiently. One lever controls the hot and the other the cold to bring perfect harmony to your bathroom.  

Traditional Styling
Are you aiming for a timeless look in your bathroom but your brassware is overly modern? Maybe your existing taps are traditional in the sense that they haven't looked great since 1982? Either way, with this tap you'll soon forget about your old design faux pas. With it's stunning traditional looks it really could be the epitome of class when you've got it fitted in your bathroom.  

Reliable Ceramic Cartridges
Are dripping taps starting to drive you crazy? Drip, drip, dripping at all hours of the day? If this sounds familiar then you need to upgrade! This stylish tap contains a ceramic cartridge which provides long-lasting reliability and a smoother quarter-turn action for easier operation. It's never been easier to acheive the temperature and flow you need!  

Solid Brass Body
Is your bathroom feeling a bit tired and worn out? Is the quality of the previous owners taps lacking? A good quality, long-lasting tap needs to be made from a good quality, long-lasting material. And that material is brass. This tap is made from solid brass, precision machined to work flawlessly, and finished to an impeccable standard. It will give you bathroom an expensive, high-quality feel that won't be beaten.
Polished Chrome Finish
If your old taps are starting to tarnish and no amount of chrome cleaner is bringing them back to life then you really deserve to refresh them. Old, well-used taps can really let down the overall look of your bathroom so bring yours back to life with a simple swap. This particular tap will bring a new element of style to your bathroom with it's gorgeous, polished chrome finish. Pair it with some new accessories for the perfect contemporary look.  

Flexible Tails Included 
You get your new tap delivered. You're excited. You open the box only to find out that you're missing the flexible tails to connect it to your plumbing. Frustrating! You can order a new set online or run to a local shop. Either way it's annoying! Thankfully with this tap you don't need to worry as the flexible tails are included. Resume excitement!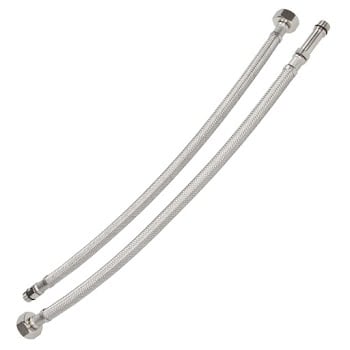 10 Year Guarantee 
High-quality parts and precision engineering put these products together and we want you to be confident of that, so to put your mind at ease we cover you with a 10 year long guarantee.  

Dimensions A: 

Dimensions B: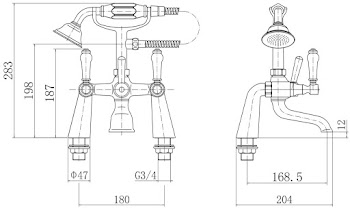 Basin Tap Video:  

  Bath Shower Mixer Tap Video: