In days gone by, ceramic sinks have been more commonplace in traditional kitchens. However, a resurgence in their popularity of late has seen them become a familiar fixture in modern and contemporary spaces, as well. The undermount installation style of this stunning Tuscany 1.5 bowl sink from Reginox adds to that aesthetic, taking advantage of one of the hottest trends in kitchen design to catapult the ceramic sink into the 21st century. With a gleaming white finish and attractively curved edges, the Tuscany undermount is sure to complement the existing d cor of any home it inhabits.
There s plenty more to this product s charms than just surface ones, however. With a 1.5 bowl capacity, both of which boast generous proportions (400mm x 388mm x 174mm for the main bowl and 100mm x 286mm x 150mm for the secondary bowl), there s plenty of room to wash, soak, rinse and drain all the crockery in your cupboards if need be. What s more, the super-tough ceramic from which the sinks are constructed is resistant to temperature and staining, meaning you can place hot pots and pans directly onto their surface without fear of burning or marking them. The hygienic design also makes cleaning up a cakewalk; simply wipe with a damp cloth and they ll instantly return to their impeccable former brilliance.
All purchases come with twin waste plugs and strainers for both of the sinks, as well as a 10-year guarantee from the manufacturer, which covers all parts for a single year. With that kind of peace of mind on offer, can you afford not to invest in a Reginox Tuscany undermount sink? The future of contemporary kitchen design awaits.  

Reginox Ceramic Sinks

Video will open in a new window
Using the eBay App? Paste link into a browser window:

[isdntekvideo]
1.5 Bowl Sink
1.5 bowl kitchen sinks are great for busy multitaskers. These sinks give you the option to do multiple tasks, for example, you could be rinsing vegetable whilst the pans are soaking. This choice of sink is highly convenient for family kitchens and will look great in any kitchen, no matter the style.

Ceramic Material
Ceramic kitchen sinks are the perfect purchase for more traditional styled kitchens. Offering a hard wearing and heat resistant properties, you re guaranteed to get a lifetime of use out of your sink, the robust and classic design makes these sinks a popular choice for kitchens.  

Left Handed Sink
The Reginox Tuscany kitchen sink features a large bowl on the left and a half size bowl to the right which is great for multitasking, so whilst you're washing dishes in the larger bowl you can use the smaller bowl for rinsing and hand washing.

Please note: this sink is not reversible

Overflow Fitted
This kitchen sink is fitted with an overflow so you don't need to worry about overfilling. It's positioned near the top of the bowl to maximise on water holding capacity and it could save you from getting a rather wet floor!  

Undermount Installation
Undermount sinks offer stylish minimalism as their rimless design means the worktop seamlessly fits the sink. This installation is best suited for granite, wooden and plastic worktops. As the sink is fitted below the worktop, it makes an easy job of cleaning!  

Easy To Clean Ceramic
You really can t beat the use of the ceramic in the kitchen. It s resistant to chemicals so keeping everything clean and more importantly hygienic is easy. The smooth surface reduces the amount of grime build-up and allows for an easy wipe clean after use. It s also a breeze to keep on top of any limescale deposits should you live in a hardwater area.  

600mm Cabinet Width
The style and size of your new kitchen sink is important but what a lot of people forget to check is the size of the cabinet that it s being installed into, especially if you ve had new worktops too. This sink has been designed to fit into a 600mm wide cabinet.  

Matching Basket Strainer Waste
Comes complete with high quality stainless steel sink basket strainer waste kit.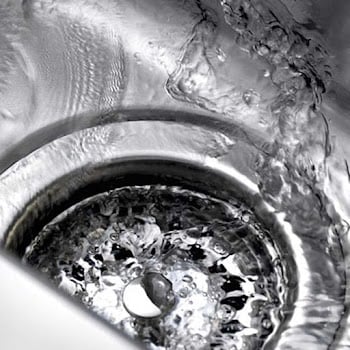 10 Year Guarantee As Standard
When buying products for your home you need to know that they re going to stand the test of time. This is why this product comes with a fantastic 10 year guarantee against any manufacturing defects should the worst happen and the product is not up to standard.

Dimensions:

Cut Out Guide: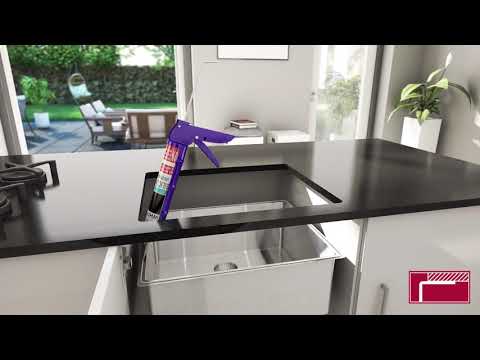 How to Install a Reginox Undermounted Kitchen Sink

Video will open in a new window
Using the eBay App? Paste link into a browser window:

[isdntekvideo]