Please note there is no illumination on top or underneath the unit.
Mains Powered
Take the hassle out of having to replace batteries with this mains powered LED illuminated bathroom mirror cabinet. LED's are very energy efficient, so you don't have to worry about your electric bill going up when you're using it!  
Powerful LED Lighting
LED lighting is becoming more and more popular thanks to the life that the bulbs have and also the reduced cost in running them when compared with ordinary lighting. This mirror has great light power, featuring on each front side edge of the mirror door to perfectly assist you in seeing what you're doing whilst subtly lighting your bathroom.

 

Adjustable Internal Shelves
This mirror features a handy storage compartment on the inside of the cabinet. There are 2 double layered adjustable tempered glass shelves inside, giving you plenty of space to store your bottles and products away from sight. Storage is key in a bathroom due to lack of space, so this mirror cabinet is extremely practical as it doesn't take away any important floor space.
 

Internal Mirror
This LED mirror cabinet also features an incredibly pracitcal mirror on the reverse of the door. This is super handy if you're using products that are kept inside your mirror, so you don't have to keep opening and closing the door every time you want to use a new product!

Soft Close Door
Glass is extremely fragile so the last thing you want to do is accidentally slam your mirror cabinet door and risk shattering your mirror. The soft close hinges prevent any accidental heavy hands, protecting your cabinet and keeping noise levels to a minimum in those quiet early mornings.
 

Demister to keep your mirror clear of steam
We all have our own personal bathroom routine which is why it's pretty annoying if you've had a shower and now can't see even the blur of your outline in your very steamy mirror. Thankfully those woes aren't an issue thanks to a handy demister fitted within the mirror. They guarantee you a steam clear patch so you can carry on with your day, problem free.

Demister size: 300 x 200mm  

Integrated Shaver Socket
Charging your shaver in various places around the house can be a pain, especially if you can't do it in your bathroom. This mirror comes with an integrated shaver socket which can even be used to charge your electric toothbrush! 

Infrared Operated Lighting
It's no secret that these mirrors look great, but they're packed with clever functions too like the easy to use, no-touch lighting. It's activated by motion using an infrared sensor on the side of the mirror, providing you with extra light to complete the day's pruning. Simply turn back off by repeating the same motion.  

Durable aluminium construction
This mirror cabinet is constructed from aluminium, which is the perfect material in a high-moisture environment due to its durable properties. Aluminium is ultra-strong yet lightweight and resistant to corrosion from water, making it an excellent choice for your bathroom.   

IP44 Safety Rated
With any electrical product that's fitted within a bathroom, or any moisture rich environment, it's important that they exceed the safety standards required for installation. Our mirrors do and are rated IP44 which means they've been fully tested to ensure complete safety anywhere that might pose a water spray risk.  

100% Pre-Assembled and Ready to Use
No more "Flat Pack Nightmares" this product comes fully assembled and ready for use. You won't have to worry if you have the right tools to assemble it, or whether that left-over pack of screws means you have put it together wrong!


Just take it out of the box and you are ready to go.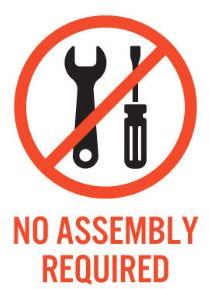 3 Year Guarantee
When buying anything for your home you need to know that its going to stand the test of time. This is why this product comes with a fantastic 3 year guarantee against any manufacturing defects should the worst happen and the product is not up to standard.  

Dimensions: