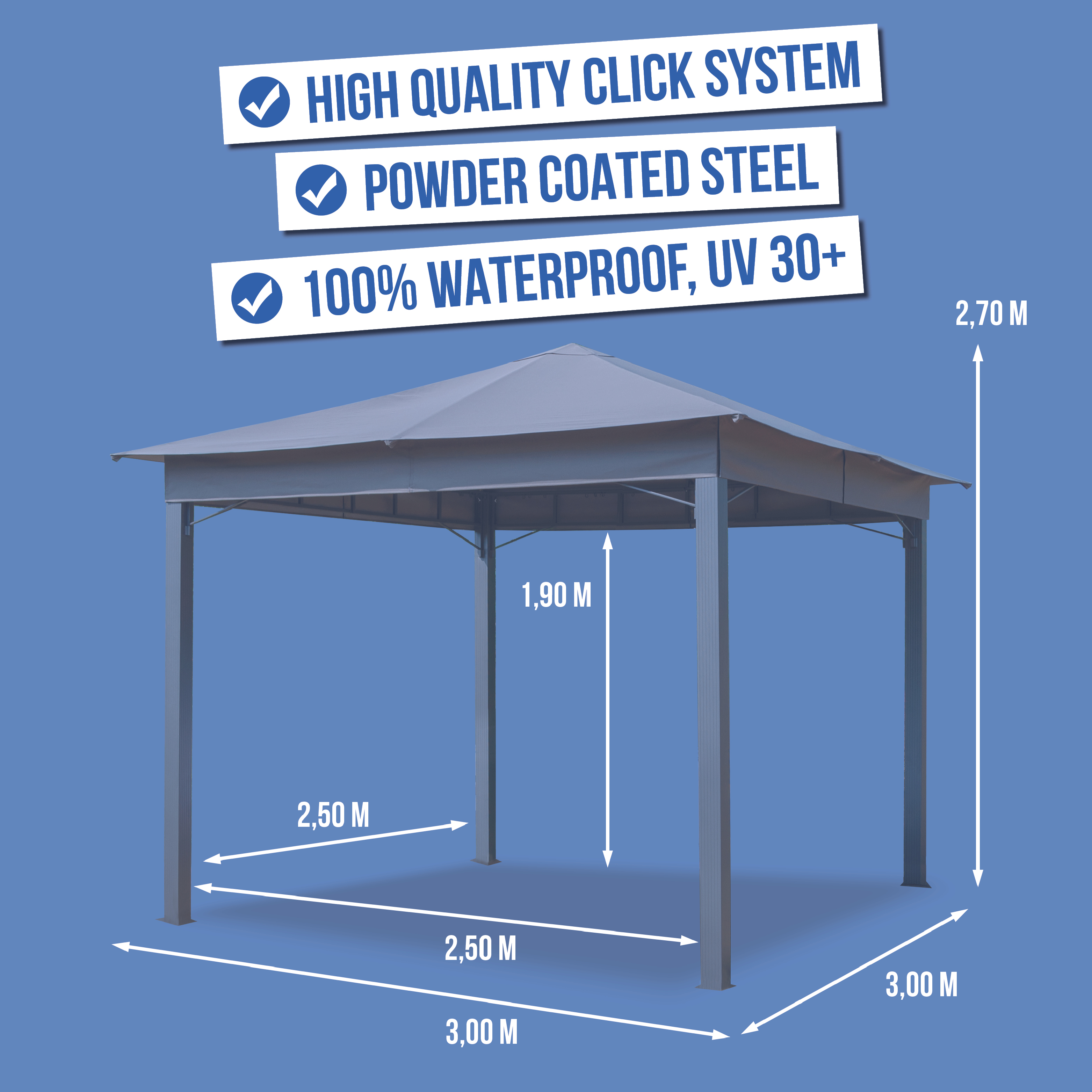 This garden pavilion combines timeless, modern design and stability.
The massive steel construction, with approx. 6x6cm solid posts, ensures a solid and reliable stability.
The powder coated steel elements provide protection against the weather elements.
Furthermore, the pavilion frame, through its high-quality click-connection system is quick and easy to assemble.
The 180g/m² polyester tarpaulin, with a PVC coating and UV protection factor of 30+, not only serves as a shade dispenser but also is 100% waterproof.
The four supplied and colour-coordinated side panels/curtains ensure and sense of individual privacy.
Versatile usage
Versatile and useful pavilion serves as an ideal as an oasis of tranquillity or as a shelter for garden parties.
– Weather protection: enjoy and celebrate, come rain or shine
- Individual design: Optically upgraded garden
Construction
Robust and sturdy aluminium frame that can be assembled quickly thanks to its high quality click-connection system.
– Durable steel frame, protected against corrosion by heat treated powder coating
– Stable square profile, approx. 9x9cm, 1mm thick – Timeless, clear design between the posts
– Robust base plates with holes for anchoring – Includes tools and fastening materials
Tarpaulin
Roof tarpaulin made from 180g/m² high quality polyester with additional PU coating
– 100% waterproof roof panel with high UV protection of factor
– Tapered seams – Includes 4 side panels/curtains made from approx. 180g/m² polyester with a PA coating
– High quality double rail system – Pre-assembled double-curtain rail
– Completely lockable with a zipper lock